Easter with us. Our menu.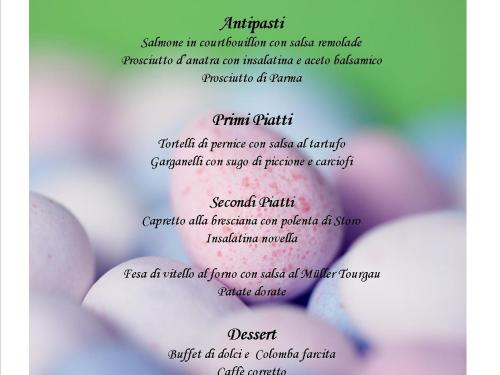 2019 Easter Menu.

Appetizers
Salmon in court-bouillon with remoulade sauce
Ducks ham with salad and aceto balsamico
Parma's ham

Main course
Coat cooked in the brescian way with polenta of Storo.
Novella salad
Oven-heated beef tenderloin with Müller Tourgau sauce.
Golden potatos

Dessert
Sweet buffet and stuffed Colomba.
Spiked coffee


Wines: White Chardonnay
Red Chianti Docg

Euro 40.00

Innovation and tradition, the story of our chef.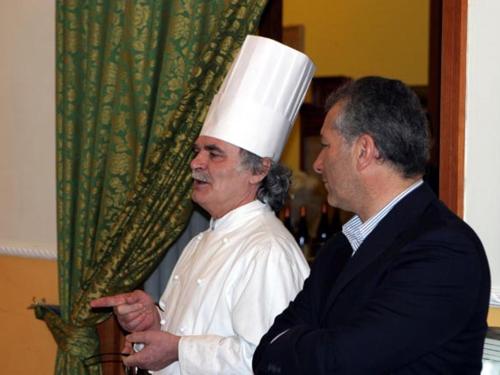 First the butcher school and the Calini diploma, then the maths school at the Catholic University and finally the electrocution for the cuisine in the french streets. My approach to the ovens may inspire a romance, but it doesn't ends here.

Son of a destiny of restaurateurs, in fact, I studied maths while dreaming the bohemian life of an artist. Those who had the chance of admiring my artwork, which decorates the walls of my restaurant, know it well. The paths decided for me, that in 1986, after some study holidays in a french restaurant, I ended up in the kitchen of the House of Bedizzole.

Here I started, along with Mirto, my wife, perfect housewife and a brave sommelier. I evolved, enjoying every following holiday as an intern of great masters like Godio, Santin, Blanc y Ducasse, winning after only 5 years a Michelin star in 1996. With them I refined my art, that finds full expression in the hotel I manage in Vallio Terme, province of Brescia.

New menus from 30€ on, per person, including drinking.
Gourmet fish menu - 60 euros per couple.
- Appetizer of scallop with small vegetables, european bass scaloppato with steamed asparagus, terrine of shrimps, zucchine and formagella of truffle.
- First course to be chosen between,
light fish soup
tagliolini with shrimps and European flying squid,
gnocchi with sarago sauce
- Second course to be chosen between
brill with sliced fresh tomate and herbs from our valley,
fresh hake with potatoes
escalope of branzino on cabagge with nutmeg.
- Sweets with three desserts of the day
- Glass of wine Vallagarina IGT Müller Thurgau
- A bottle of water every two persons.

Service included.

Gourmet meat menu 55 euros per couple
- Appetizers to be chosen between snails with almonds, cake of scottona with mushrooms, salad of goose ham produced by the house.
- First course to be chosen between tortelli of partridge with truffle sauce, vegetable stew, potatoes and mushrooms soup.
- Main course to be chosen between rooster from Livorno with foie gras sauce, carrè of lamb with rosemary, rump steak filled with mushrooms.
- Composition of dessert composed by three different types of pastries from the house chosen by the chef
- Glass of wine Teroldego del Trentino

Service included.




Ideas for feasts.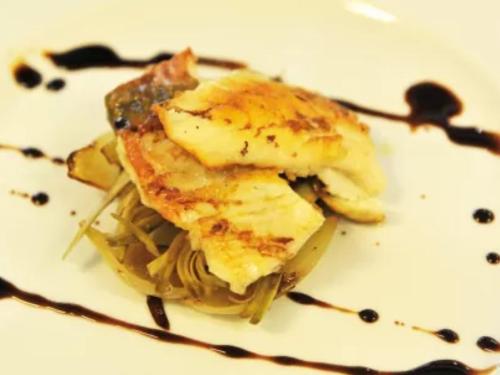 Cocktails
Slassic method, fruit cocktails, olives, grana cheese and small samplings.

Appetizers
Raw ham from Langhirano,
Sfogliatina with mushrooms,
Little salad of goose ham produced by the house.

First Course
Rosy Fornasari ravioli with spiced butter,
Pumpkin flowers risotto with azafrán and mascarpone.

Main Course
Lamb carrè with rosemary,
Calf with sautéed vegetables,
Mix salad, roasted potatoes.

Dessert
Sweet buffet fantasy

Price 25 euros